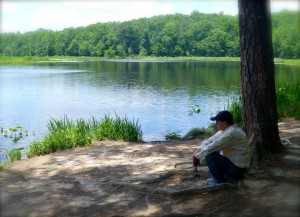 Being Father's Day, there's probably no better time for me to honor my dad and share a few lessons I've learned from him over the years. I couldn't ask for better father, mentor and family leader over these past 35 years, and I hope I can be as good a father to my two sons. So, without further ado, here are a few lessons he's taught me in one way or another (in no particular order).
——————-
BE CONFIDENT
As I look back over my teen and college years, I remember numerous instances where my dad explicitly told me to "be confident." Whether I was preparing for a presentation or navigating the dating scene, he was always finding ways to instill self-confidence. In fact, I clearly remember during my school years him telling me to introduce myself to other peers with "Hi, I'm David, and you're gonna like me." We'd have a little laugh because we all knew there was some joke to this, but I never forgot the clear lesson behind it: Come across confident and you'll gain the respect of others. Of course, this was always demonstrated in a very humble, Christ-like way—confident and conceited were two very different attitudes… and the latter would get you nowhere.
GIVE A FIRM HANDSHAKE
This probably plays a bit into the previous lesson, but I clearly remember dad communicating the importance of a firm handshake in demonstrating confidence. This has stuck with me and every time I greet somebody, I can't help but consciously think about my handshake. In fact, just a few days ago, a technician from Verizon shook my hand on his way out and said (no lie) "Wow, nice handshake. I hate those wet fish handshakes." I'll admit, the dialogue was slightly awkward (wasn't expecting that type of response… what do you say, "Thanks! I lift weights"??), but it also gave me a sense of pride as I know I was clearly living out what my dad had taught me as a young boy.
SUPPORT YOUR WIFE AND ALWAYS TREAT HER WITH RESPECT
This is something my dad would explicitly state on many occasions, but more importantly he taught this by example. I can't count the number of times I've seen my father stand up for my mom in front of others. Even when she's being completely emotional and irrational (aren't we all sometimes?), he consistently offers a gentle spirit and kind heart toward her. I've realized in life that this is much more difficult than it seems, and that I, honestly, can improve in this area. I can only ask that God give me the same type of compassion and respect toward my wife as my dad has towards my mom.
KEEP GOD IN THE FOREFRONT
Speaking of God, Christ has always been of utmost importance to my dad and that's clear in every aspect of his life. He consistently attends church (even when no one else goes with him), but more importantly he's always looking to grow in his walk with Christ and expand his spiritual knowledge. Over the years, we've had many conversations about faith and God—conversations I'll cherish forever because they truly helped clarify my purpose and guide my direction in life.
APPRECIATE AND ENJOY GOD'S CREATION
I can't think of anywhere else my dad would rather be… Whether it's walking around the lake or sitting by the ocean waters for hours on end, my dad loves the outdoors. On my way home in the evenings, I'd often cross the causeway and see my dad sitting there alone in his car, windows down, parked facing the water. Other people would be there to fish. My dad would be there to watch the sunset. Sometimes I'd stop to say hi and sometimes I wouldn't. But every time, I'd think about—and be amazed—at my dad's true appreciation for God's creation. And those days I did stop he'd excitingly show me the 100 photos he took on his cellphone of that day's sunset (of course, they all looked pretty much the same

).
I'm sure you've heard the phrase "stop and smell the flowers." Well, my dad lives that out, but I bet he'd say it a bit differently: "Stop and watch the sunset."
DON'T LET THE LITTLE THINGS BOTHER YOU
When things don't quite go my way, I've often called my dad frustrated and wanting to vent. Whether it's something that happened at work or an issue that I couldn't get resolved with customer service, he would often say the same thing, "Don't worry about it. In the long run, it's not important." Then it would come to me. Why am I so upset about this? These little things are just a "blip" in the big picture of life. It's not worth it. Move on, it's a waste of energy.
Thank you, dad, for continually giving me perspective on what's important in life.
THINK ABOUT THE FUTURE
This lesson was taught to me in a different fashion that I can truly appreciate—my dad grew up NOT planning for the future. He didn't save for retirement… until that "uh oh" moment later in life. Although it's all worked out fine, what has been a tough lesson for him has been an easy lesson to teach me, because I've seen his frustration with these past decisions—a frustration that I will, hopefully, never have to experience as I heed his advice in planning ahead.
——————-
There you have it—just a few lessons, among many, my dad has taught me which have shaped my life to this day. I can say I'm truly blessed to have such a great guide and role model for my life. Thank you, dad. I love you very much. And Happy Father's Day!