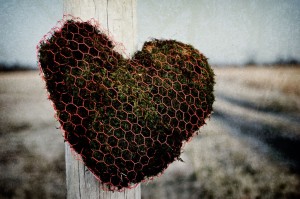 Would your wife say you're romantic?  If she hesitates in her answer, do you think she'd at least say you were romantic at one time?  It's probably not a fair question, right?  You're not young and dating anymore. Maybe you're married, have a minivan, a diaper bag, and toddlers that wake up before the sun.   I ask the question because February is here and soon men across America will be judged on their romantic gestures on the big day, Valentine's Day.  I'd like to share what my dad taught me about being a romantic husband.
First of all, I'm not a fan of Valentine's Day.  I don't like being guilted into action by a Hallmark holiday.  Don't get me wrong.  I enjoy spoiling my wife with gifts and flowers, cooking a gourmet meal or surprising her with dinner reservations.  My main beef with V-day is that it's not a surprise.  Wives know that it's coming.  In fact, they expect it, and what's romantic about that? 
My dad, believe it or not, taught me a lot about being romantic.  Dad was a guy's guy, loved trucks, power tools, steaks, and beer, but he also was a romantic.  He led by example and I think my brother and I learned a lot by watching how he treated our mother.  He never missed an anniversary or Valentine's Day and always had some type of surprise up his sleeve.  Sometimes he cooked an extravagant meal or made secret dinner reservations.  He wasn't afraid to be affectionate in public or buy flowers on a whim.  One of my favorite examples of his creativity was wine selection.  Many an anniversary dad would have the local liquor store pre-order "Pink Catawba" wine because it wasn't in stock.  This was no fine viniculture for sure, more of the twist cap variety, but it was the wine he and Mom drank when they were first married.  I always thought that was a pretty romantic gesture.
Does marriage squelch that creative romantic in us? My wife and I were cleaning out the attic the other day and unboxed a motherload of candles.  We both laughed because they were mine.  "Mr. Romantic," my wife teased.  Some were left over from my proposal (over 100 candles, but that's a story for another day).  I'll admit  I am not as romantic as I was when we were dating.  For me it's not because I don't want to surprise my wife, it's just harder now.  We see each other's credit card charges and unlike when we were single, we live in the same house.  When I lived elsewhere, I could plan and create in secrecy.  Now, she can see things coming a mile away.  Should that stop me?  Nope. If my dad could pull it off, so can I.  You just have to try a little harder.
I am a lot like my father.  I love to surprise my wife, not afraid of PDA and do still buy flowers on a whim.  The challenge for me with two young children is making the time to date my wife.  The calendar fills up fast in our house and I think arranging for a babysitter for a night on the town sometimes feels extravagant.  It's not.  I think making time for my wife and investing in our marriage is time and money well spent.  So here's my advice.  Don't forget to romance your wife.  Even though there are new challenges, you can find a way.  Don't sweat Valentine's Day.   It's okay if you're not out dining with the entire rest of the world on February 14th.  Maybe cook her dinner or secretly get a sitter and surprise her with a night out.  Don't just wait for February.  Make time for you wife every month.  I'm not preaching.  I need to heed the same advice.  Show your wife you're still a romantic husband.
Photo credit: sixpackshack / Foter.com / CC BY-NC