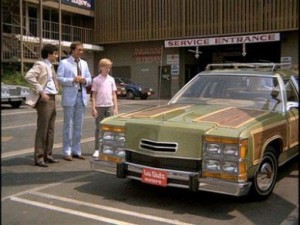 It's summertime and you know what that means…family vacation!  Nothing makes memories like Dad piling Mom and the kids into the car and hitting the road for some forced family fun.   I think it's a rite of passage most of us have experienced .   It's why National Lampoon's Vacation was such a popular movie.  Not only do we identify with the humor of traveling as a family, but many of us had our own version of the  Family Truckster (mode of travel in said movie).  To be specific, it was the "Wagon Queen Family Truckster" and she was pea green with fake wood paneling and eight headlights (see photo).
So what was your most memorable mode of travel for a summer vacation?  Did you have a Family-Truckster?  Click on the "Share a Story" button and tell us about it.  If you have a picture, that's even better.  We'll collect Truckster descriptions up until Labor Day.  The best submission will win a stylish "Bragonmydad" T-shirt and of course the boasting rights for a whole year (priceless).
I'll get the ball rolling with one of our Family-Trucksters.   She was a 1972 Dodge Tradesman van…dark blue.  With a powerful 318 engine and shifting on the column, that rig could hustle.  My dad modified it of course.  He built a double bed in the back for he and mom, rigged a mattress across the front seats for my brother, and I slept on the bench seat which  had a flip up table on the back for dining in the rain.   With homemade curtains, an 8-track player and no AC, she was built for making memories.
That's my teaser.  Let's hear about your adventure wagon.
Photo source – National Lampoon's Vacation – 1983