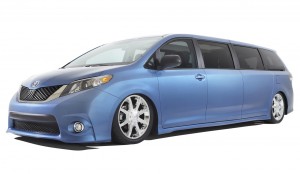 We are looking at minivans these days.  No matter how hard I try, it's just hard to get excited about buying one.  I've been doing the research and hearing the arguments.  It's practical, it's economical, and great if you have kids.  I know. I tried grabbing a brochure at the dealer.  I thought maybe if I read about the dvd player, and front console cooler, or stow away seats, I'd get excited. "   It can hold a 4'x8' sheet of plywood," said the salesman.  "Yes, so can a pickup with a hemi," I countered.
It's just not cool.  I know.   My "cool card" expired quite a while ago.  They probably revoked it the day I moved to suburbia and skipped the rock concert to go shopping for a weed wacker.   The days of muscle cars and open road have matured to minivans and carpools.  I try to imagine what it will be like to drive it off the lot.  Function not form, right?
I can get excited about travel though. I do like to daydream about trekking across country with my family and all the exploring we could do.  If a minivan makes that possible, then I can start to come around.   It reminds me of my dad and the adventures our family had in our van.  It was no family truckster from National Lampoons Vacation, but it was definitely cool. If you missed our salute to the truckster, check out http://bragonmydad.com/my-family-truckster-contest/.
She was a 1972 Dodge Tradesman with a 318 engine…dark blue.  Dad had her all decked out.   He built a double bed in the back with storage beneath.  It had a flip up table off the back of the bench seat, and even curtains for camping.  Dad rigged a bed across the front seats for my brother and the bench seat was my bunk.   It fit us all and we drove it everywhere. It was Florida in the spring, Maine and Black Lake in the summer or Mongaup pond for a weekend jaunt.   We definitely logged some miles.  We loved that van, not because of what it was, but what it represented.  It was our adventure wagon.  It was campfires, guitar playing, canoeing, bicycling, and hiking.  I still remember how sad dad looked the day it was hauled away for scrap.  There sure were a lot of memories in that old dodge.
So if you haven't realized, I'm slowly coming to terms with my fate.  I probably will be purchasing a minivan in the near future.  I'm sure it will be worth it.  My wife will get this big grin on her face when she hits the button for the automatic sliding doors.  It won't be a "swagger wagon" (check out http://www.dailymail.co.uk/video/femail/video-1060185/Original-Toyotas-Swagger-Wagon-commercial.html if you want a  good chuckle) , but it will be our adventure wagon.  For that reason I am excited.
Photo credit:  Toyota Swagger Wagon Supreme ( SEMA 2010)