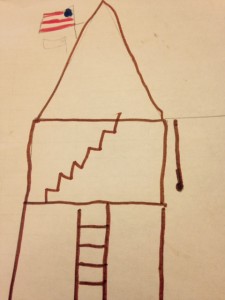 Do your kids ever ask what you do at work? My six year old son thinks I shuffle papers, have lunch, and talk to my friends.  In his eyes, the only difference between my job and kindergarten is he gets to have recess.  Some days I think he's really not that far off.
How would they know?  What I do every day is done elsewhere.  They know I leave after breakfast and come home just before dinner.  Somehow, in between, I earn money so they can eat and have clothes, but they're not really sure what it is that I do exactly.
I tried to explain that I am a landscape architect and I get to design cool spaces.  Well, sometimes they're cool.  Sometimes they are parking lots  or landfills.  Recently they got to enjoy a park I designed and said that I did a great job.  It's funny.  A project can win awards or be in a company newsletter, but no endorsement felt better than my kids seal of approval.
So they kind of have an idea about what I do, but they aren't really sure how I do it.  Last weekend I unfortunately found myself having to bring work home to meet a deadline.  I commandeered the kitchen table and spread out my pencils, pens, paper, circle templates, and scales and tried to bang through the design.  My kids immediately wanted to draw too so we soon were all hard at work at the table.  I worked on some pencil sketches and then a final color rendering.  I didn't realize how much the kids were watching.
When I got home Monday evening from work, my son wanted to show me the designs he drew for the treehouse he was dreaming about.  Not only did he use a scale for the sketches, he said he also did a color version just like Daddy does.  I grinned…chip off the old block.  He really wanted us to work on the plans together so we greed we would have a design workshop on Saturday and invite his older sister since she'd be using this fort too.
Our design workshop was a blast.  We spent quite a while brainstorming on the program for the fort. We needed a zipline, slide, trampoline, water ballon sling shot, and of course an American flag.  Sister insisted on stairs, not ladders, and windows with pretty flower boxes.  Don't forget the sandbox, Daddy.  After a number of sketches and labor intensive coloring we were well on our way.  We all agreed we needed a project binder to keep everything handy for construction.  Stay tuned. I'm sure we'll have some fun when the building begins.
I've often lamented that I don't get to work alongside my family or teach my children my craft. I've longed for a home career where I got to spend more time with my family.  Maybe I just need to be more creative and look for the opportunities when they come along.