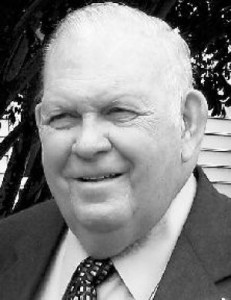 What makes a man great?  I thought a lot about this question sitting in a pew this past Saturday. We were attending the memorial service for Jay Hammond, a member of our church and a man I looked up to a great deal. 
 As people shared their memories, a pattern of traits emerged for Jay.  I'll call them the six "F"s…Faith, Family, Friends, Fishing, Food, and Frugal.  I cried as photos of Jay and his family projected on the screen.  It was emotional because Jay reminded me a lot of my own father, Larry, who passed away in 2011.  I think the two of them would have hit it off in grand style. I'm sure they're probably swapping fish stories in heaven right now.
 When people speak of great men, they often begin to list men of power, men of wealth, or great notoriety.  Presidents, scientists, computer whizzes, or generals sometimes come to mind.  Jay was none of these.  He wasn't rich or famous.  He didn't make the cover of Time or Newsweek or live in a mansion on the lake, but his life was rich and his legacy great.
 Jay had his priorities straight.  He had a strong faith which he shared openly and he looked to the Lord as he led and provided for his family.  I think fishing and beach getaways were the excuse for him to be with his friends and family.  I think the activity wasn't the focus.  It was the people. I listened at his service to all the folks he touched, he taught, and that he impacted.  I only knew Jay a few years, but he taught me how to trout fish, he taught me to be proud of where I'm from (we realized we lived in the same small town, Callicoon, NY), but more importantly, he taught me how to get my priorities straight.
 I too will miss Jay, his ribbing, his laugh, his cooking, his advice.  Even though he's no longer here on earth, his legacy continues.   A little bit of him lives on in his children, his grandchildren, and his great grandchildren.  Sometimes it's a humorous quote, "turn off the lights, I don't own the electric company."  Sometimes it's a skill.  His son is still making spinners like his dad.   Sometimes it's being reminded to live your life differently and make time for the people you love.  Sometimes it's remembering to pass on what you've learned to the next generation.  Jay Hammond was a great man and his legacy lives on.