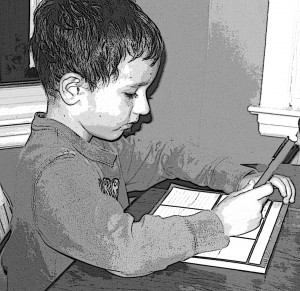 My son is teaching me.   I often write in this blog about the things I learned from my father.  Today I wanted to share something I'm learning from my son, James.  My five-year-old is reminding me that if I want to accomplish things in life, more specifically, the personal things, I need to be deliberate.
James is a planner.  He has it in his genes.  Every Sunday, he sits down and fills in a calendar for the week.  He asks his mom what is planned for the next few days and then draws in pictures to remind himself.   It was my wife's idea and manifested out of necessity.  In short, she got tired of him asking, "…what are we were doing tomorrow, when is Grandma coming to visit, or how many days til my birthday?"  It works great.
I believe in the concept.   I'm a planner too.  My wife teases me because I'm a list maker and she knows a project isn't really serious until it has a binder.  The apple never got too far from the tree.  I use my day planner at work giving myself a "to do" list every morning and crossing off tasks as they are accomplished.   I'd say I'm pretty intentional about the projects that have a material list or quantifiable results.  I wish the same were true for my personal goals.
I think I've had this romantic idea that the personal stuff will work its way out without planning.  I'll somehow be a supportive husband and fun dad just by instinct.  This is where I need that reminder from my son.  I'm not saying every minute of your life needs to be planned out like a movie script, but I do think if certain personal goals are important to you, they need to be scribbled into the schedule first, not last.  For all you Parenthood fans, I'm reminded of the "Funky Town" episode where even romantic encounters had a block of time on the calendar ( http://www.examiner.com/article/parenthood-schedules-a-trip-to-funky-town).  I think we still need to be flexible because life is unpredictable, but blocking out time for those we love is a start.
Our family is trying to be better about this.   We now schedule family movie nights, family date nights, and have a list of friends we want to have over for dinner.  We try to sit down with the calendar and write those in first.   Weekly date nights can be a sitter and a night out for mom and dad, or they can be individual dates with kids.   Laura might take James to the toy store while Lydia and I stay home and play with play dough.  They don't have to be extravagant outings, but they need to be scheduled.  Then when someone asks you to check your calendar, you can say, "sorry I can't make it that evening, it's family date night."   I'm not advocating you run your house like a naval ship, but I do think we need to examine our goals in life and make sure we are prioritizing accordingly.
Stephen Covey's Seven Habits of Highly Effective People is a book that made a huge impact on my life (https://www.stephencovey.com/7habits/7habits.php) .  Covey talks a lot about, "keeping the end in mind".   What will be etched on your tombstone?   Did your life reflect what you said was truly important to you?  It's sobering sometimes to examine how we've performed.  If I say spending time with my wife and kids is a high priority, but my calendar is filled with appointments that don't involve them, how am I doing?
My challenge for myself, and for all of you, is to remember the crayon filled calendar that sits on my fridge.  Take the lead from my son and remember to set time aside for what matters to you.   Let's use that fancy iPhone to schedule a trip to the ice cream stand with our kids, or to place a call to our grandma.  Let's be reminded to live with intention and make space for those we love.   Let's be reminded to be deliberate.